What Are Biscotti?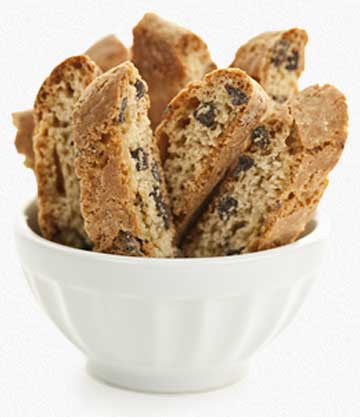 A convenient, portable, and durable staple for the Roman Legions. A sugared and spiced banquet food for the wealthy during the Renaissance. Today, biscotti are an everyday, any time delight enjoyed all over the world.
Biscotti are slightly-sweetened, twice-baked, plain or flavored, crisp and thin slices of bread. Narrowly-shaped, they are baked, cooled, sliced, and baked again at a lower temperature until they are dry and crisp.
Sweets, spices, nuts, and dried fruits allow for a near limitless number of biscotti flavors. And the addition or subtraction of baking powder, butter, oil, and eggs are often used to change the texture.
In Italy, biscotti are a traditional breakfast food served with milk enhanced with coffee, cocoa, or barley; or a dessert dunked in a glass of Vin Santo, an Italian dessert wine.
Whether its breakfast, dessert, or a snack, biscotti are a great treat for many occasions, especially holidays. Try them today by themselves or dunked in your choice of beverage- milk, coffee, tea, hot chocolate or wine.
If you happen to be in Southwest Florida, you must visit Carmelo's Italian Restaurant in Punta Gorda FL. Enjoy a great night out with friends or family with authentic Italian and Sicilian dishes at the Best Punta Gorda Italian Restaurant: Carmelo's Italian Ristorante!
Biscotti Tips, Hints, and Ideas
Here are just a few recommendations to help you when baking, storing, and serving your biscotti:
Preparing

Biscotti
After the first bake be sure to let the log cool for a few minutes
Make deliberate, firm cuts of your slices to prevent crumbling
Place your slices cut-side down during the second bake to keep your biscotti crispy
For chocolate or dried fruit biscotti, place slices upright, you just want them to dry during the second bake
Serving

Biscotti
Serve biscotti at breakfast or brunch with milk, coffee, or tea
Dunk biscotti in a Vin Santo wine or hot chocolate for dessert
Crumble biscotti over ice cream or frozen yogurt
Serve biscotti with gelato
Use your biscotti in a tiramisu recipe
Storing

Biscotti
Store your biscotti in an air-tight container at room temperature and they will last for a couple weeks
Placing biscotti in a paper bag at room temperature for a couple of days can soften biscotti that is too dry
Let chocolate-frosted biscotti sit at room temperature and harden before refrigerating to avoid a grayish-white chocolate color
Wrap biscotti tightly in parchment paper and place in a freezer bag to freeze and they will last up to a month
Reheating biscotti for 10 to 15 minutes at 300 degrees can freshen your biscotti's flavor